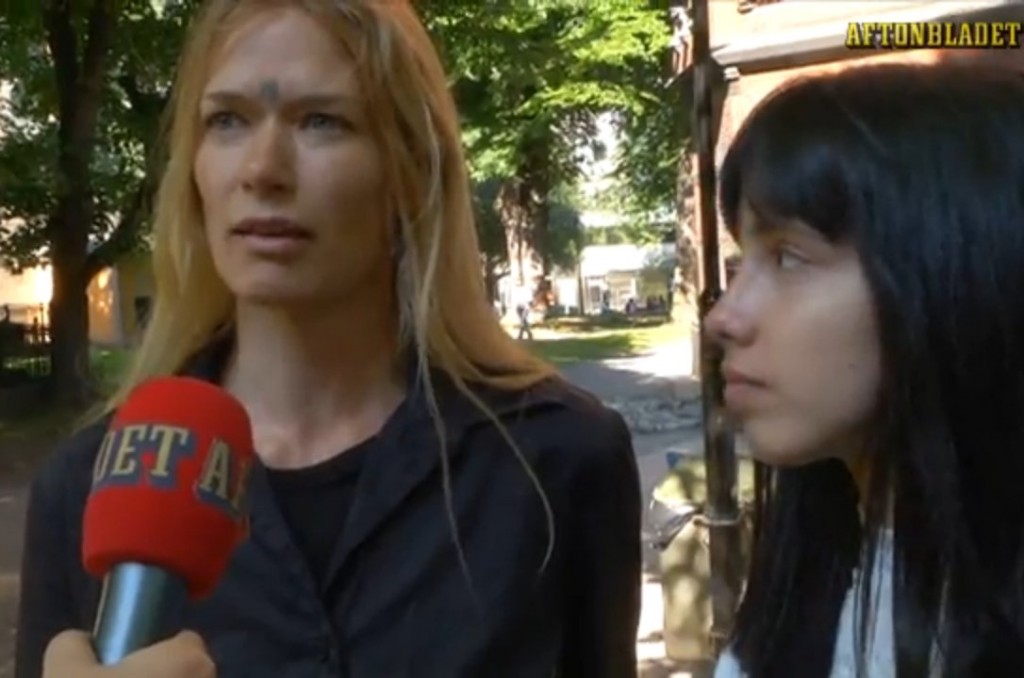 [click on link to watch the video]
http://tv.aftonbladet.se/webbtv/nyheter/brott-och-straff/article14811.ab
Swedish narration, interviews of Jenny and Aliaa el Mahdy in english.
Shouting slogans like "Free women" and "No Sharia," a trio of topless female protesters from the infamous Ukrainian-based group FEMEN converged on a Swedish mosque Saturday and were promptly arrested.
According to the Agence France-Presse, the women took off their long, black robes in the central Stockholm mosque, revealing their bodies painted with phrases including, "No sharia in Egypt and the world" and "My body is mine, not somebody's honor."
The press had been notified of the protest in advance, and most of the mosque was empty, according to the AFP. Mosque employees called police, who arrested the women on suspicion of disorderly conduct, according to The Local.
However, the women told local media outlets they were lucky to live in a country where they would merely be arrested for such a protest.
"If we did that demonstration in my country, we [would get] raped, we're going to be cut with knives, we were going to be killed," Egyptian protester Aliaa Magda Elmahdy told the Swedish station AftonBladet.
Another protester told the outlet that she and her fellow protesters had been hoping to send the message of "freedom to women" and the "freedom to have your own individual choice to decide over your body."
"We should not be called whores," the protester told AftonBladet, "or that we are doing something shameful -- like they were calling us today in the mosque. They were calling us whores, whores from hell."
According to the FEMEN website, the "sextremists" who participated in the mosque protest were of Egyptian, Tunisian and Swedish origin. They were protesting Islamic extremism and oppression against women, particularly in Egypt:
FEMEN calls upon the Egyptian women to take an active part in the overthrow of Islamism revenge for centuries of humiliation and slavery... The fire of revolution must burn!
Founded in 2008, FEMEN has protested across Europe in the name of feminist causes. In April, FEMEN protesters staged demonstrations near mosques and Tunisian embassies in support of activist Amina Tyler, a Tunisian student who sparked controversy after posting topless photos of herself on Facebook in March.
Short link:



Copy - http://brief.ly/~6qfae$C2