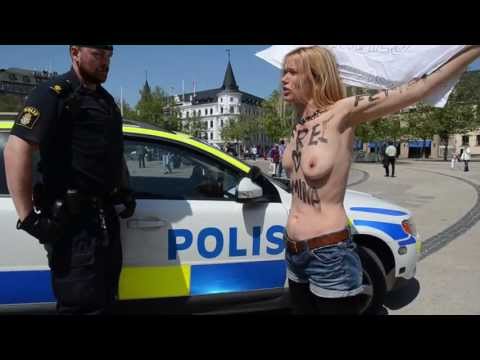 Thursday 30th of May 2013 is Amina's first day of trial for her struggle. She's facing 2,5 years in prison if Tunisian democracy and secularism is erased by theocracy and a growing number of salafists wanting to implement their sharia laws. Femen Sweden support a secularized world where women are equal to men!
Don't let Amina take the fight for freedom alone!
Featuring: Jenny A Wedhammar, 40, Malmö, Sweden.
More pictures on FB
UPDATE:
From Femen: "On thursday 30th May, the judge, in charge of Amina's case, the Tunisian feminist, has decided to keep her under temporary custody, regarding prosecution for desecreation of cemetries and attack on public morals.
One of her lawyers, Souheib Bahri, stated that the charges are based on a 1894 beylical decree which could carry up to a six months to five years of prison for possessing incendiary or explosives devices.
Let's remind that while the trial of this young pacifist women is being hold, a verdict fell yesterday in the trial of salafists and jihadists who attacked American Embassy in Tunis on 14th of September 2012: two years of suspended jail.
New legal proceedings are intended against Amina. The judge decided to keep her in jail meanwhile. The young FEMEN activist will be suited for profanation of cementary and affront to public decency. She will be interrogated on 5th of June.
FEMEN takes note that in front of Tunisian law our topless djiahdists are more dangerous than armed terrorists. We therefore inform Tunisians authorities that we will be more and more to breast them. WE WILL BE MILLIONS AMINA!"
Short link:



Copy - http://brief.ly/~Oq43H$6e