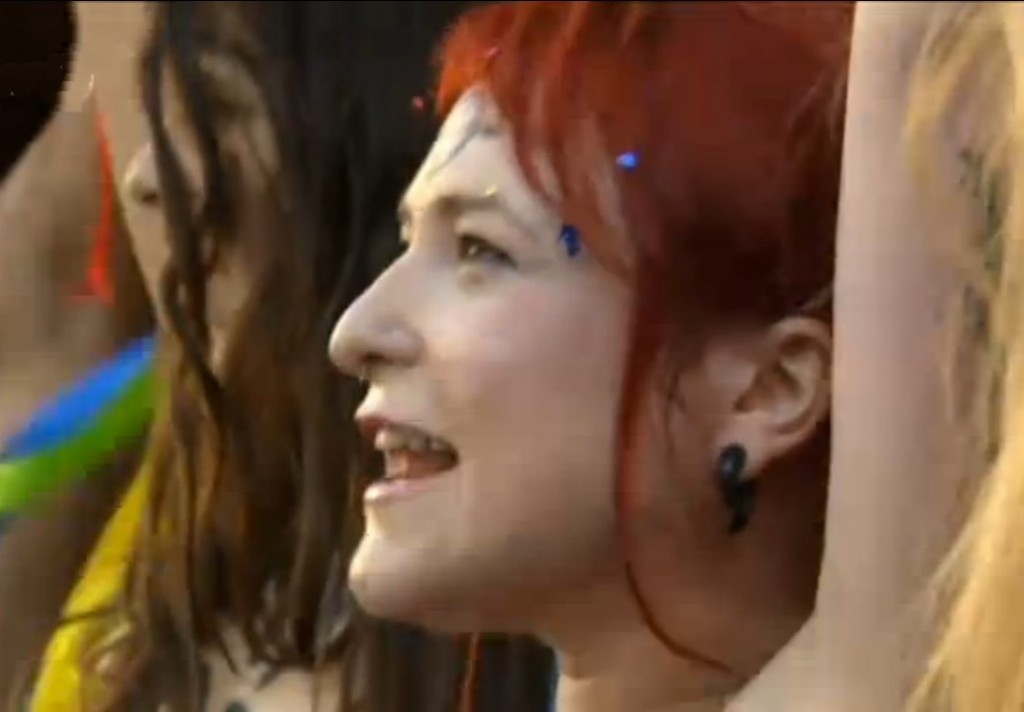 [click on link to watch video]
http://www.rtbf.be/info/belgique/detail_action-des-femen-devant-l-ambassade-d-ukraine-a-bruxelles?id=8077061
UNSERE KÖRPER SIND UNSERE WAFFEN! WIR BRAUCHEN KEINE GEWEHRE! WIR KÄMPFEN MIT UNSEREM GEIST UND UNSEREM KÖRPER! WIR FORDERN FREIHEIT UND DIE SOFORTIGE BEENDIGUNG POLITISCHER UNTERDRÜCKUNG!
FEMEN Germany protestierte heute vor der ukrainischen Botschaft in Berlin, um der Welt die Dummheit der ukrainischen Autoritäten und ihre Vorgehensweisen gegen politische Gegner vor Augen zu führen. Sie sind sich keiner Mittel zu schade, um den Schrei nach Freiheit im Keim zu ersticken. FEMEN entlarvt die Strategien des ukrainischen Staates, die benutzt werden sollen, um FEMEN und alle politischen Gegner mundtot zu machen. Der ukrainische Geheimdienst drang in FEMENs Büro in Kiew ein und drapierte dort Waffen und Bilder von Kyrill und Putin. FEMEN Mitgliedern drohen nun Gefängnisstrafen in Höhe von 5 Jahren oder mehr. FEMEN zeigt der Welt, dass ihre einzigen Waffen ihre eigenen Körper sind. FEMEN hat niemals Gewalt während ihrer Proteste angewandt. Die ukrainischen Machthaber konterkarieren sich selbst, in dem sie der Welt zeigen, was sie am meisten fürchten: den unbeugsamen Willen nach Freiheit, den junge Frauen furchtlos in die Welt schreien! Wir brauchen keine Waffen! Wir, das Volk, sind, was der Staat am meisten fürchten sollte! Wir kämpfen mit unseren Körpern für Freiheit, und ihr habt verdammt nochmal zuviel Angst vor uns, um uns unsere Meinung offen aussprechen zu lassen! Sie gefährdet all eure Gedanken, eure Gewohnheiten, euer gesamtes Leben, dass ihr euch so verdammt komfortabel eingerichtet habt, indem ihr diejenigen die unter eurer Herrschaft leiden einfach zum Schweigen gebracht habt.
OUR BODIES OUR WEAPONS!
WE DON'T NEED NO GUNS!
WE FIGHT WITH OUR MINDS AND BODIES!
WE DEMAND FREEDOM AGAINST POLITICAL OPPRESSION!
FEMEN Germany staged a protest in front of the ukranian ambassady in Berlin today, to show the world the stupidity of ukrainians accusation of femen of gun posession. FEMEN outlines the strategie of the ukranian state which are tactics to discredit femen, being used to muzzle FEMEN and all political opponents. Ukranias secret service broke in FEMENs office in Kiev and placed guns and pictures of Putin and Kyrill there. FEMEN are now threaten with penalties of five years or more.
FEMEN shows, that there only weapons are their bodies. FEMEN has never used violence during their protests. The ukranian authorities are fooling themselves, showing the world, that what they fear the most ist the unbreakable belief of freedom, which young girls shout to the world fearlessly.
WE don't need no weapons! We, the people, are what the state should fear the most!
We and our bodies are fighting for freedom, and you are too damn afraid of us, to let us speak out our opinion freely. It might endanger all your thoughts, your habits, all the way you made you're live so fucking comfortable, just by silenting all those who are suffering from your supremacy!
End of the story shows part of Paris action.
Short link:



Copy - http://brief.ly/~wNFBV$Dm